1417 Articles - pg. 1 2 3 4 71

It Meets My Need - Published on September 2, 2019
... Why do I love this gospel of God's free and sovereign grace to sinners in Christ Jesus? This gospel meets my every requirement; it suits the needs of this bankrupt, helpless sinner. The gospel demands nothing of me, but supplies every spiritual and eternal need for me. It announces the glad tidings that everything required to make me pure and righteous before God, my perfect Substitute has been accomplished. The gospel doesn't command me, "Do this or that,&r...
Jim Byrd Article Length: Short
Male Headship - Published on August 31, 2019
...But I suffer not a woman to teach, nor to usurp authority over the man, but to be in silence. - 1 Timothy 2:12 As a woman who falls under the original 'curse' to Eve, "and thy desire shall be to thy husband and he shall rule over thee" I can say in all honesty that it is in my natural flesh and heart to want to rule over my husband and to have control, to not be in submission in other words. The verse in Timothy is speaking of authority in the church...
Eileen Beckett Article Length: Short
When a Man Perceives - Published on August 30, 2019
...When a man perceives his works to be good, he does not know the Standard of measurement....
Glenn McGrew Article Length: Very Short
Dear Brother David : Regarding the Timing of Justification - Published on August 30, 2019
... Dear Brother David, I have read the "theological debate" over the issue of WHEN God justified His people, and I have looked at your questions raised against any who espouse belief in eternal justification. As you may well know, when it comes to the various positions on this subject there are both true believers whose view does not deny God's grace and Christ's righteousness as the only ground of salvation, and h...
Bill Parker Article Length: Long
The Elect Have Never Been the Objects of God's Wrath - Published on August 29, 2019
... The notion that God has an attribute or disposition of hell-wrath toward his elect in pre-conversion days--then changes his mind to a disposition of love and grace in the post-conversion days of his elect: this amounts to a denial of God's immutability. It is certainly true that EXPERIENTIALLY the elect are children of wrath or seething rage against God in their pre-conversion days. However, the disposition of God (as opposed to man) is irrespective of time. God justifies...
Bob Higby Article Length: Very Short
What Is Your Hope? - Published on August 29, 2019
... Ask almost any man, "Whether he hopes to be saved eternally?" He will answer in the affirmative. But enquire again, "On what foundation he rests his hope?" Here too many are sadly divided.... The Pelagian hopes to get to heaven by a moral life and a good use of his natural powers. The Arminian by a jumble of grace and free-will, human works, and the merits of Christ. The Deist by an interested observance of the social virtues. &nbs...
Augustus Toplady Article Length: Short
As For Me - Published on August 28, 2019
... As for me, my justification lies with God. In his hand are the perfection of my walk and the virtues of my heart. By His righteousness is my transgression blotted out . . . As for me, to evil humanity and the counsel of perverse flesh do I belong. My transgressions, evils, sins, and corrupt heart belong to the counsel of wormy rot and those who walk in darkness. Surely a man's way is not his own; neither c...
2019 Joplin Sovereign Grace Conference : Sep 14-15 - Published on August 28, 2019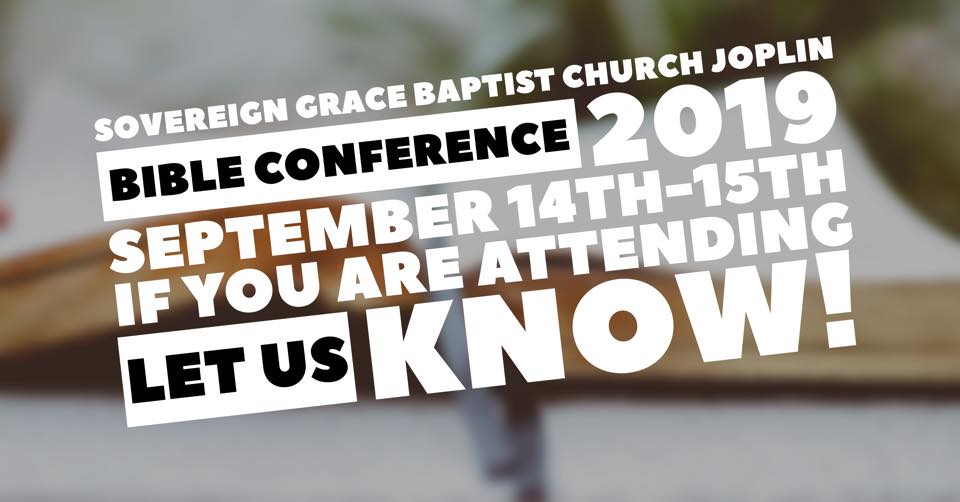 ...Speakers: Elder Ray Hoggard, Elder Tom Tanquary, and Elder Tom Armstrong For more information, please contact Sovereign Grace Baptist Church of Joplin, MO More info on Facebook...
One Savior - Published on August 27, 2019
... I would never minimize the importance of repentance toward God and faith in the Lord Jesus Christ. Bless the name of our Lord, He grants us repentance to turn from our idols, to forsake our dead works and He gives us faith to embrace the Lord Jesus Christ as our Prophet, Priest and King. We look to the blood and righteousness of this blessed Savior as the only way whereby a holy God can justly accept fallen sinners. Still, faith and repentance are not S...
Jim Byrd Article Length: Short
The Law – No Rule of Life For The Believer - Published on August 26, 2019
... The Scriptures distinctly teaches us that we are not justified by the law nor is the law a rule of life. That which can only curse can never justify and that which can only kill can never be a rule of life (Romans 3:20). Both the Jews who had received the law and the Gentiles who had never had the law were now to be saved through grace (Acts 15:11). Not only were they to be saved by grace, but also they were to stand in grace (Romans 5:2) and to &...
Scott Richardson Article Length: Short
It Is Well With My Soul - Published on August 24, 2019
... The song "It Is Well With My Soul" was written by a successful Christian lawyer Heratio Spafford. His only son died at age 4 in 1871. In 1872, the great Chicago fire wiped out his vast estate, made from a successful legal career. In 1873 he sent his wife & 4 daughters over to Europe on a summer trip on the ill fated SS Ville du Havre. Since he had a lot of work to do, he planned to follow them later. The Ship sank and he lost his 4 daughters with the wife being ...
The Atheist, The Religionist and the Tender Heart - Published on August 23, 2019
... It is hard to say which is worse – the atheist who says, "There is no God" or the religionist who maintains that God cannot do as He pleases. Since all men by nature have stony hearts, all the threatening in the world will do no good; the stony heart of natural man must be pierced by THE POWER OF GOD in order to be tender! One with a tender heart desires to know the will of God, has a readiness for spiritual thin...
Scott Richardson Article Length: Very Short
A Word About Trials - Published on August 22, 2019
..."Beloved, think it not strange concerning the fiery trial which is to try you, as though some strange thing happened unto you, but rejoice." - 1 Peter 4:12-13 If God has given you the privilege and opportunity to go through difficult and heavy trials, then you ought to make the most of that privilege and opportunity to glorify Him by being in subjection to Him, because it might only happen once in a lifetime. We don't desire to have s...
Scott Richardson Article Length: Short
Unworthy Servants - Published on August 21, 2019
... Many chide us old school baptists for always referring to ourselves as "unprofitable servants" or "unworthy servants". Some may say, "We ARE worthy, for Jesus has saved us and made us worthy and profitable in his kingdom." My dear friend, if you have experienced the grace of God, you have not been made worthy, but accepted! Accepted in the Beloved! There is only one who will hear the cries of WORTHY, and that is the Lamb that was slain!!! ...
Mikal Smith Article Length: Very Short
A Dead Dog as I Am - Published on August 21, 2019
... Upon arriving to services one Wednesday evening, to my surprise, there was an old, mangy, rejected and forsaken dog sitting on the front porch of the church building. I was appalled and repulsed at the dog's sad appearance and horrible condition. This poor creature was in bad shape, yet all I can remember thinking was, "I wish this dog would go away." I am so grateful that when my merciful, gracious and compassionate Savior looked upon...
David Eddmenson Article Length: Very Short
What Does Made Sin Actually Mean? : Part 4 of 4 - Published on August 18, 2019
... Parts one, two, and three of this article series were recently published. My final part in this article series will deal with Clay Curtis's sermon titled, The Blessing of Imputation. It can be viewed or listened to in its entirety on Sermon Audio. But for the purpose of analysis and commentary, I transcribed it in its entirety and have made it available for download. I think this is an important sermon to listen to because it really...
Brandan Kraft Article Length: Long
Debunking the 'Great Satan' Myth : Part 1 : The Biblical Argument - Published on August 17, 2019
..."One Little Word Shall Fell Him." Martin Luther, A Mighty Fortress Be sober, be vigilant; because your adversary the devil, as a roaring lion, walketh about, seeking whom he may devour; whom resist steadfast in the faith, knowing that the same afflictions are accomplished in your brethren that are in the world. But the God of all grace, who hath called us unto his eternal glory by Christ Jesus, after that ye have suffered a while, make you perfect, stablish, streng...
Bob Higby Article Length: Very Long
Christ's Death was a Glorious Success! - Published on August 17, 2019
... Let us be very much crystal-clear on whether there was ever any value in the death of Christ for the non-elect. The death of Christ has ZERO value, in any sense for, or towards, the non-elect. Not in purpose, will, effect, nature, scope or any other thing under the sun having to do in connection with value for the non-elect, at all, or at any time, in this world, or the world to come. This includes sufficiency. His death has ZERO sufficiency, in any sense for, or toward...
Scott Price Article Length: Very Short
What Does Made Sin Actually Mean? : Part 3 of 4 - Published on August 15, 2019
... Part one and part two of this series of articles on the made sin controversy were published not too long ago. I've received comments, and most of them have been positive. But there has been some mild criticism/objections, which I expected. I'm a big boy, so send your comments my way, I want to hear what you have to say. My feelings aren't gonna be hurt, I can tell you that. I have not heard from anyone from the "made sin&quo...
Brandan Kraft Article Length: Long
Professed Gracers - Published on August 15, 2019
... There are already very few Sovereign grace preachers and believers. I therefore distaste seemingly "professed gracers" who are always in fighting mode to the extent that they are willing to devour their own brethren just to prove that they know a few things, which in most cases they don't. The more they speak the more they reveal their emptiness of things regarding Christ. If you disagree with me or anyone, go t...
James Guyo Article Length: Short
pg.