1469 Articles - pg. 1 2 3 4 5 6 74

Going Beyond Calvin - Published on September 8, 2019
... Why going farther and beyond Calvin or traditional "Calvinism" must necessarily be wrong, evil, dangerous? From whence cometh this idea that all development in doctrine should cease after 1648 / or 1689? I am a living, breathing "hyper" ("above", "beyond") Calvinist on some points and I'm quite OK with that....
Renat Ilyasov Article Length: Very Short
No Other Savior - Published on September 7, 2019
... There is no other SAVIOR but CHRIST to look to, no other MEDIATOR between God and men to make use of, no other PHYSICIAN of value for diseased and sin-sick souls to apply unto, no other FOUNTAIN but His blood for polluted souls to wash in and be cleansed, no other CITY OF REFUGE or STRONGHOLD for souls sensible of danger to flee unto and be safe, no other to come to as the BREAD OF LIFE where hungry souls may be fed, no other PLACE OF REST for those that are we...
John Gill Article Length: Very Short
Are You Called to Preach? - Published on September 6, 2019
... Do you think you are called to preach? Do you know a zealous man who thinks he is? So what is "this calling" of which we hear often spoken? All throughout the evangellyfish churchianity world, young men get this burning in their bosom that they are "called to preach." My question for all those that think they are called is this… "PREACH WHAT!?" What exactly are these men called to preach? They think they a...
Brandan Kraft Article Length: Long
Your Fruit - Published on September 6, 2019
... If what one is describing as fruit - i.e, good works, self improvement efforts, attempts at better behavior, or more obedience to the law, can be done or found in believer and unbeliever alike, then how is that distinctive one from another? It's not! Unbelievers can be obedient to Gods commands can they not? Can't the unbeliever not steal? Can't the unbeliever not bear false witness? Can't the unbeliever love his neighbor as his self? Can't an unbeliever b...
Lee Rodgers Article Length: Very Short
Motivated By the Law? - Published on September 6, 2019
... I defy anyone to find a solitary text of Scripture in the New Testament that uses the law to motivate, inspire, regulate or even guide the believer. Believers are motivated by love, inspired by gratitude, regulated by grace and guided by the Holy Spirit. The whole Word of God, the complete revelation of His will is our law. Our lives are governed by love, not by fear. We walk by faith, not by legislation. We walk in the Spirit, not in the flesh (Romans 8:...
Scott Richardson Article Length: Very Short
Why Do Men Love Pietistic Perfectionism? - Published on September 5, 2019
... Why do sinful men tend to love pietistic perfectionism? Deep inside they know full well, they cannot comply with the demands of the Sermon on Mount, nor even with the "marks of true conversion" of Paul Washer, yet they love the masochism of self-flagellation...being ignorant of God's righteousness, and going about to establish their own righteousness, have not submitted themselves unto the righteousness of God. For Christ is the end of the law for righteousness ...
Renat Ilyasov Article Length: Very Short
God's Work is Strange, Wonderful, and Excellent - Published on September 4, 2019
... "For the Lord shall rise up as in Mount Perazim, He shall be wroth as in the valley of Gibeon, that He may do HIS WORK, His strange work; and bring to pass His act, His strange act. Now therefore be ye not mockers, lest your hands be made strong: for I have heard from the Lord GOD of hosts, a consumption, even determined upon the whole earth" (Isaiah 28:21-22). "This also cometh forth from the Lord of hosts, which is wonderful in counsel, and excellent in work...
Jonas C. Sikes Article Length: Long
The Four Aspects of Justification - Published on September 4, 2019
... Throughout the years, I've discovered there are multiple aspects or perspectives of the justification of God's people. These different aspects can be best understood as from God's perspective and the believer's perspective. There is an aspect of the work of justification that has occurred in the past, and there is still an aspect that is yet to come. Some brethren when speaking of the doctrine of justification fail to differentiate betwe...
Brandan Kraft Article Length: Medium
Going to Hell with a Bible in Hand - Published on September 3, 2019
... Many will go to hell with a Bible in their hand and singing psalms, hymns, and spiritual songs, fasting and praying, preaching and teaching a false gospel all along the way. It is only those chosen, elected, and predestined in Christ unto salvation who will be in heaven with The Triune Jehovah at this point in time. After the resurrection, they will be with Him in the new heaven and new earth. God's elect will not be fooled. All of the non elect, reprobate are pred...
Gabe Gonzalez Article Length: Very Short
The Sovereignty of God is Absolute - Published on September 2, 2019
... To acknowledge this truth is at once to acknowledge that God has foreordained whatsoever comes to pass; that nothing else can come to pass; that predestination is a fact, that God does rule in the kingdoms of men; that all human ties, bonds and relationships are divinely appointed and formed; that salvation rests solely, fully, and only in God's election; that salvation is by God's grace and His grace alone; and, that no part of man's salvation is of himself...
Scott Richardson Article Length: Very Short
The Good Hurt - Published on September 2, 2019
... It is a natural and common thing to extrapolate the will of God by observing circumstances and events: "God is teaching you a lesson", or, "If you had not done X, this would not be happening to you.", or, "See how God has blessed so-and-so because of his faithfulness and hard work". These and other like expressions are typical among folk. Job's "friends" (Elihu excepted) are a prime biblical example of t...
John Pedersen Article Length: Short
It Meets My Need - Published on September 2, 2019
... Why do I love this gospel of God's free and sovereign grace to sinners in Christ Jesus? This gospel meets my every requirement; it suits the needs of this bankrupt, helpless sinner. The gospel demands nothing of me, but supplies every spiritual and eternal need for me. It announces the glad tidings that everything required to make me pure and righteous before God, my perfect Substitute has been accomplished. The gospel doesn't command me, "Do this or that,&r...
Jim Byrd Article Length: Short
Male Headship - Published on August 31, 2019
...But I suffer not a woman to teach, nor to usurp authority over the man, but to be in silence. - 1 Timothy 2:12 As a woman who falls under the original 'curse' to Eve, "and thy desire shall be to thy husband and he shall rule over thee" I can say in all honesty that it is in my natural flesh and heart to want to rule over my husband and to have control, to not be in submission in other words. The verse in Timothy is speaking of authority in the church...
Eileen Beckett Article Length: Short
When a Man Perceives - Published on August 30, 2019
...When a man perceives his works to be good, he does not know the Standard of measurement....
Glenn McGrew Article Length: Very Short
Dear Brother David : Regarding the Timing of Justification - Published on August 30, 2019
... Dear Brother David, I have read the "theological debate" over the issue of WHEN God justified His people, and I have looked at your questions raised against any who espouse belief in eternal justification. As you may well know, when it comes to the various positions on this subject there are both true believers whose view does not deny God's grace and Christ's righteousness as the only ground of salvation, and h...
Bill Parker Article Length: Long
The Elect Have Never Been the Objects of God's Wrath - Published on August 29, 2019
... The notion that God has an attribute or disposition of hell-wrath toward his elect in pre-conversion days--then changes his mind to a disposition of love and grace in the post-conversion days of his elect: this amounts to a denial of God's immutability. It is certainly true that EXPERIENTIALLY the elect are children of wrath or seething rage against God in their pre-conversion days. However, the disposition of God (as opposed to man) is irrespective of time. God justifies...
Bob Higby Article Length: Very Short
What Is Your Hope? - Published on August 29, 2019
... Ask almost any man, "Whether he hopes to be saved eternally?" He will answer in the affirmative. But enquire again, "On what foundation he rests his hope?" Here too many are sadly divided.... The Pelagian hopes to get to heaven by a moral life and a good use of his natural powers. The Arminian by a jumble of grace and free-will, human works, and the merits of Christ. The Deist by an interested observance of the social virtues. &nbs...
Augustus Toplady Article Length: Short
As For Me - Published on August 28, 2019
... As for me, my justification lies with God. In his hand are the perfection of my walk and the virtues of my heart. By His righteousness is my transgression blotted out . . . As for me, to evil humanity and the counsel of perverse flesh do I belong. My transgressions, evils, sins, and corrupt heart belong to the counsel of wormy rot and those who walk in darkness. Surely a man's way is not his own; neither c...
2019 Joplin Sovereign Grace Conference : Sep 14-15 - Published on August 28, 2019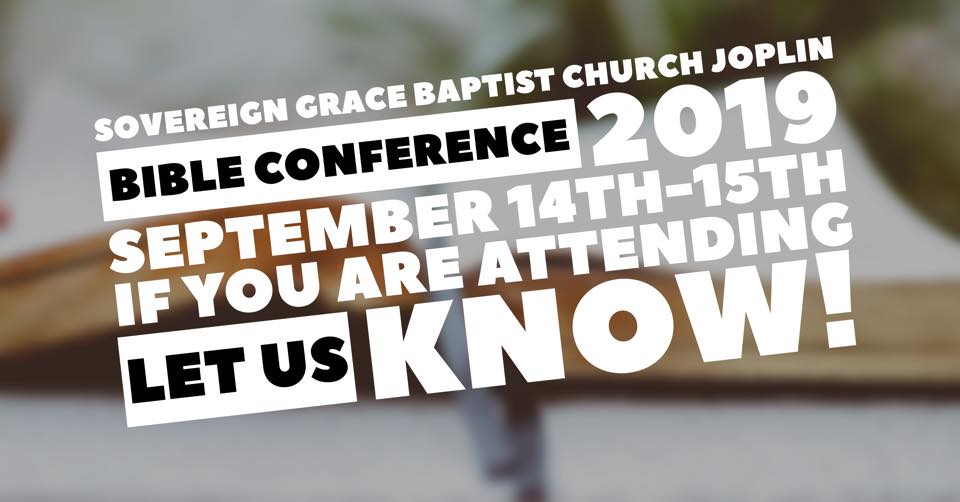 ...Speakers: Elder Ray Hoggard, Elder Tom Tanquary, and Elder Tom Armstrong For more information, please contact Sovereign Grace Baptist Church of Joplin, MO More info on Facebook...
One Savior - Published on August 27, 2019
... I would never minimize the importance of repentance toward God and faith in the Lord Jesus Christ. Bless the name of our Lord, He grants us repentance to turn from our idols, to forsake our dead works and He gives us faith to embrace the Lord Jesus Christ as our Prophet, Priest and King. We look to the blood and righteousness of this blessed Savior as the only way whereby a holy God can justly accept fallen sinners. Still, faith and repentance are not S...
Jim Byrd Article Length: Short
pg.